Nudging technique: Reframing
Also: Transform expectations of women and inspire girls

>Achieving gender equality is about making room for men and women to take on the roles in life that they want, regardless of social expectations. A part of this should also focus on transforming society's expectations and stereotypes of men's roles.
Facilities for children are largely focused on mothers, who are have traditionally been, and often still are, the main caregivers in the family. However, as more men begin to take an active role in child-rearing and care, they are discovering that facilities are not designed to fit their needs too.
To make sure that men have the opportunity to take care of their children, and to combat social stereotypes that see women as the only caregivers for small children, numerous actions are being taken worldwide to ensure that men have access to baby facilities. Men themselves (women too) are asking for toilets for both genders to have changing tables, not just in the women's toilet or the handicapped toilet. Groups campaigning for change include #dadsforchange in the UK, and Dad Club London in Canada). In Denmark and Switzerland, baby change tables in men's toilets are already the norm, and in the US, all federal facilities are required by law to install them before the end of 2016.
By reframing the fundamental parental responsibility of changing a baby's diaper as something both women and men can and should do, we can transform expectations of men and women. Fathers can be an active parent in the family too, and the expectation that women are the primary carers for babies is transformed.
Where in the policy cycle can this approach be used?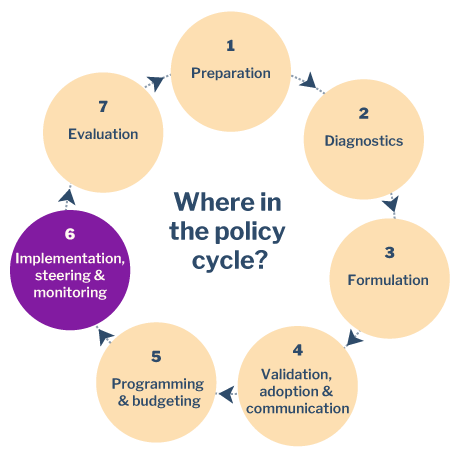 Potential for change:
This reframing of a simple activity that is generally gendered has potential to translate to the work environment. By recognizing that fathers are also carers, we can ensure that the push towards family-friendly workplaces also includes men, and not just mothers. How can we create working environments and facilities that support both genders to be carers?
(See also Remove the stereotypes from signage)
Sources
Dad Club London (2016) Dads change diapers too: an update

.
Strauss, Elissa (2016). President Obama Signs Law Requiring Changing Tables in All Federal Restrooms

.
Save