Nudging technique: Role modeling

In many cultures, girls are expected to remain at home, running the household, while boys are expected to pursue education and work outside the home. This often results in preferential treatment of boys, as they are more likely to support the family financially. This holds girls back from getting an education, and prevents individuals and families from achieving greater financial stability.
In India in the 1990s, there was an unprecedented demand for work in call centers. One recruitment agency saw an opportunity for girls to fill the gap. As part of an academic study, they provided recruitment services to girls in randomly chosen villages, helping them to gain jobs in call centers. The study also compared whether the girls who were encouraged and successful in paid work were treated better at home.
They found that not only did girls' employment increase (without reducing employment options for men), but there was also an improvement in the expectations and treatment of girls throughout the villages. "Girls aged five to fifteen experienced a substantial improvement in health and were significantly more likely to be in school." Once the first girls were employed, they acted as role models for other girls and their families, showing that it is possible and good for girls to work outside the home and contribute to society's economic growth.
Where in the policy cycle can this approach be used?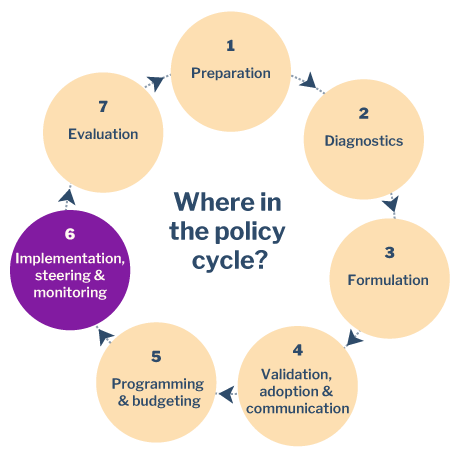 Potential for change: 
This study proved that greater labour market opportunities can impact traditional cultural values, starting with perceptions and beliefs at the family level. This suggests that creating job opportunities for girls and women in various sectors could have similar nudging potential, even in cultures with conservative values around gender roles.
Sources
Bohnet, I. (2016). What Works, Gender Equality by Design. Cambridge, Massachusetts: The Belknap Press of Harvard University Press.
Save